William Albert "Billy" Burke (born November 25, 1966 in Bellingham, Washington, USA) appears in all the movies of the series as Charlie Swan.
He began singing at age nine, and joined a band at age fifteen. After graduating from Sehome High School, Billy continued to work with bands and study/performing drama at Western Washington University. He performed in Seattle at the Annex Theater, New City Festival, and the A.H.A. Theater. He made his feature film debut in the independent film Daredreamer (1990) and then moved to Los Angeles to pursue a career in singing and acting. He has since appeared in such films as Jane Austen's Mafia! (1998), Marshal Law (1996) (TV) and Roman Paris. He has made guest appearances on such television shows as Party of Five (1994) and Star Trek: Deep Space Nine (1993).
Burke is set to star in J.J. Abrams's Revolution NBC Mondays 10:00/9:00c after The Voice during the 2012–13 television season, starring with J.D. Pardo.
Biography
Edit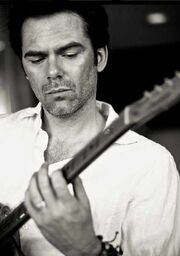 Cut from the cloth of Hollywood's most enduring leading men, Burke graces the American screen with a resounding presence and a seemingly effortless ability to inhabit the roles he plays. Though admittedly untrained in the craft, he has built a body of work that is looked upon by.
Burke moved to Los Angeles to pursue a career as a musician, not as an actor. A demo deal with a major record label that "didn't quite pan out", left him to explore the only other thing he "knew he was good at". With two independent films shot in his native Seattle under his belt, he began auditioning and very soon working as an actor. After a string of mostly "bad guy with facial hair" TV guest appearances, he landed his first studio picture role in the Zucker brothers' genre spoof Jane Austen's Mafia! (1998). Capitalizing on his deadpan comedic sensibilities, he then won the title role in Dill Scallion (1999), the cult classic "mockumentary" about the rise and fall of a slightly touched country music singer. Co-starring in "Dill", was then fledgling writer/director Peter Berg. It was Berg who brought Billy back to television to play "Dr. Abe Matthews" in the acclaimed ABC drama "Wonderland" (2000). Although its life on the air was short-lived, "Wonderland" (2000) won the hearts of critics and fans, alike, and was recently re-released in its entirety on DirecTV.
Paramount's Along Came a Spider (2001) marked Billy's first revisit to studio films. He then returned yet again to television for the second season of Fox's mega hit series "24" (2001). His disturbing portrayal of abusive father and husband "Gary Matheson" still resonates as a fan favorite.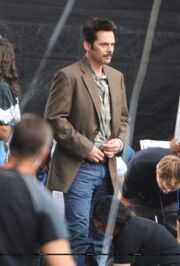 In 2004, Billy teamed up with John Travolta and Joaquin Phoenix in the firefighter drama Ladder 49 (2004). It was here that the studios once again began to recognize his on-screen magnetism. So, after another steady stream of notable television performances, he was cast alongside Anthony Hopkins and Ryan Gosling in New Line's hit thriller Fracture (2007/I), directed by "NYPD Blue" (1993) creator Gregory Hoblit. This multi-layered turn as a flawed cop snared by his own aberrations caught the eye of Academy Award winning director Robert Benton. Benton swiftly invited Billy to join the cast of his and Lakeshore Entertainment's Feast of Love (2007), which included Morgan Freeman and Greg Kinnear. As fate would have it, neither Gregory Hoblit nor Lakeshore had seen enough of Burke's dry wit and unshakable persona, so when it came time to find a match for Diane Lane in Untraceable (2008), he got the call to play the rock solid "Detective Eric Box".
Since arriving in Hollywood in the early 90s, Billy Burke has never stopped working. There are countless credits that come in between the afore-mentioned that of course, also serve as a testament to his gift and longevity. However, it was a chance viewing of Dill Scallion (1999) that struck an indelible head turn for director Catherine Hardwicke. The impression Billy's performance left, lasted until they met in 2007 while Hardwicke and Summit Entertainment were looking for someone to play "Charlie Swan" in their film adaptations of the bestselling book series The "Twilight" Saga. After a brief meeting and read-through of a few scenes, Billy and Catherine agreed... it was "meant to be". Summit followed suit and welcomed him into the franchise. Millions of fans around the world have concurred with the choice and the overwhelming response to his theatrical work has given him solace in the fact that he never got that record deal.
Filmography
Edit
Year
Film
Role
Notes
2015
Major Crimes
Phillip Stroh
Season 3 finale
2013
Angels in Stardust
The Cowboy
Highland Park
Lloyd Howard
2012-2014
Revolution
Miles Matheson
TV NBC Mondays 10:00/9:00c during the 2012–13 television season
2012
The Twilight Saga: Breaking Dawn - Part 2
Charlie Swan
November 16, 2012
2011
The Twilight Saga: Breaking Dawn - Part 1
Charlie Swan
November 18, 2011
Red Riding Hood
Cesaire
2010
Charlie Swan
2009
The Twilight Saga: New Moon
Charlie Swan
Luster
Tito
Ticket Out
Dennis
Baby O
Sergio
The Closer
Mr. Stroh
TV, 1 episode
2008
Twilight
Charlie Swan
Fringe
Lucas Vogel
TV, 1 episode
My Boys
Jack Newman
TV. 4 episodes
The Grift
Wade Buchanan
Untraceable
Detective Eric Box
2007
Feast of Love
David Watson
Fracture
lt. Robert 'Rob' Nunally
Forfeit
Frank
Law & Order
Attorney Farmer
TV, 1 episode
Three Days to Vegas
Billy Simpson
Backyards & Bullets
TV Movie
HBO First Look
Himself
The Making of 'Fracture'
2005
World Poker Tour
Himself
Hollywood Home Game VIII
2004
Ladder 49
Dennis Gauquin
The Jury
John Ranguso
TV, 2 episodes
Monk
Brad Terry
TV, 1 episode
2003
Karen Sisco
Merle Salchek
TV, 1 episode
Lost Junction
Jimmy McGee
Gilmore Girls
Alex Lesman
TV, 3 episodes
Something More
Peter
2002–2003
24
Gary Matheson
TV, 7 episodes
2002
Flashpoint
Shaw
TV Movie
2001
Final Jeopardy
Mike Chapman
TV Movie
Along Came a Spider
Ben Devine
After Image
Sammy
2000–2009
Wonderland
Dr. Abe Matthews
TV. 5 episodes
2000
The Independent
Dwayne
1999
Komodo
Oates
Dill Scallion
Dill Scallion
1998
Don't Look Down
Mark Engel
Without Limits
Kenny Moore
Mafia!
Joey Cortino
1997
VR.5
Marco
TV, 1 episode
1996
Marshal Law
Monk
TV Movie
The Ultimate Lie
TV Movie
Gone in the Night
Rob Kinny
TV Movie
Party of Five
Gil
TV, 1 episode
1995
Strange Luck
TV, 1 episode
Vanishing Son
Spider McKeun
TV, 1 episode
All-American Girl
Cody
Tv, 1 episode
1994
Party of Five
Guy in Club
Star Trek: Deep Space Nine
Ari
TV, 1 episode
1991
To Cross the Rubicon
James Bird
1990
Daredreamer
| Year | Film | Notes |
| --- | --- | --- |
| 2004 | Dead & Breakfast | Story |
| 2003 | Something More | |
| Year | Film | Notes |
| --- | --- | --- |
| 2003 | Something More | co-producer |
External links
Edit
Community content is available under
CC-BY-SA
unless otherwise noted.