Booboo Stewart (born January 21, 1994 as Nils Allen Stewart, Jr.) appears in Eclipse and both Breaking Dawn movies as Seth Clearwater.
Personal life
[
]
Stewart is the son of Nils Allen Stewart, Sr., and Renee Stewart. He has three sisters: Trent "Fivel" (b. 1996), Maegan, and Sage. He was inducted into the Martial Arts Junior Hall of Fame in 2004. He is now on tour with his two sisters Maegan and Fivel, known as TSC (The Stewart Clan). He is a fan of professional wrestling and has pictures of himself with various WWE stars on his official Myspace page. He also attended Summerslam 2009 and was featured heavily in video packages on WWE programming following the event. In October 2009, Booboo and his family attended TNA Wrestling's Bound for Glory PPV which took place at the Bren Events Center in Irvine, CA. Booboo's real name is Nils Allen Stewart Jr., but he was nicknamed Booboo as a child because he used to suck two fingers and his mom said that he had a booboo face.
Stewart is of Chinese, Japanese, and Korean on his mother's side, and Russian, Scottish, Hawaiian and Blackfoot (Native American) on his father's side.
Career
[
]
Stewart is a former member of Disney's T-Squad and now tours with two of his sisters—Fivel and Maegan.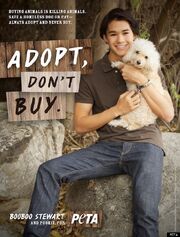 From 2004 to 2010, he did a number of acting roles in both TV and film. His breakthrough role came when he was cast as Seth Clearwater for Eclipse.
In 2011, he received the 2011 Rising Star Award from the Temecula Film and Music Festival.
In 2012, Stewart's ad for PETA was released. Stewart is the third actor from the Twilight Saga to have an ad for PETA.
In 2014, he co-starred with Daniel Cudmore in the Marvel movie, X-Men: Days of Future Past as Warpath. He also participated in the Disney Original Channel movie, Descendants, portraying Jay, the son of the villain Jafar, and the animated short series, Descendants: Wicked World.
Filmography
[
]
Film
Year
Film
Role
Notes
2004
Yard Sale
Little Boy
2005
Fly Kidz
Himself
Pit Fighter
Vendor
Uncredited
2006
18 Fingers Of Death!
Young Buford
The Conrad Boys
Ben Conrad
666: The Child
Donald
2007
The Last Sentinel
Young Tallis
Uncle P
Bike Kid.
2008
The Fifth Commandment
Young Chance
2009
American Cowslip
Cary
How I Survived the Zombie Apocalypse
Son
Short film
2010
Dark Games
Jake Wincott
The Twilight Saga: Eclipse
Seth Clearwater
Logan
Ben
Also producer
Smitty
Peabo
2011
Jake Stevens: The Last Protector
Jake Stevens
The Twilight Saga: Breaking Dawn - Part 1
Seth Clearwater
2012
The Twilight Saga: Breaking Dawn - Part 2
Seth Clearwater
White Frog
Nick Young
Guardians of Luna
Jake Segerstrom
Voice
2014
X-Men: Days of Future Past
James Proudstar/Warpath
Co-starring Daniel Cudmore
2015
Descendants
Jay
Disney Channel Original Movie
2017
Descendants 2
Jay
Disney Channel Original Movie
2019
Descendants 3
Jay
Disney Channel Original Movie
Film made for television
Year
Title
Role
Notes
2004
Skelton Man
Child Warrior
Sci Fi Pictures original film
Television guest appearances
Year
Title
Role
Notes
2004
Big Time
Martial artist
Unknown episodes
2004–2006
Dante's Cove
Stephen
5 episodes, 1 episode credit only

Unaired pilot as Boo Boo Torra

2005

ER

Power Ranger
Episode: " Man With No Name"
2006

Everybody Hates Chris

Kid/Ping
2 episodes
Blue Dolphin Kids
Himself / Host
11 episodes, 3 episodes as Actor
2010
CSI: Miami
Kenny Turner
Episode: "Die by the Sword"
2011
Good Luck Charlie
Kai
2 episodes ("Sun Show Part 1", "Sun Show Part 2")
R.L. She's The Hauning Hour
Kai
1 episode ("Pool Shark")
2012
Kickin' It
Carson
1 episode ("New Jack City")
2015
Descendants: Wicked World
Jay
Voice; 2 episodes
Music videos
Year
Music video
Artist(s)
Notes
2008
Kung Fu Fighting
Cee-Lo Green and Jack Black
Trivia
[
]
External links
[
]
References
[
]