Catherine Hardwicke (born on October 21, 1955) is the American director of the Twilight film. Raised in Texas, she attended the UCLA film school and began her career as an architect. Early on, she worked as a production designer but eventually made it into the directing career. She is best known for the movies: Thirteen and The Nativity Story.[1]
History
[
]
Helen Catherine Hardwicke was born on October 21, 1955, to her parents John Benjamin Hardwicke and Jamee Elberta Bennett. She grew up in McAllen, Texas, raised by the Presbyterian religion. She went to college at UCLA where she created an award-winning short movie, "Puppy does the Gumbo". Catherine began her career as an architect. She spent most of the 90's as a production designer, working on films like Tombstone and Tank Girl. Her first foray into film direction was with the award-winning Thirteen, which starred Nikki Reed. She also directed "Lord of Dogtown".
The Twilight Saga movies
[
]
Twilight
[
]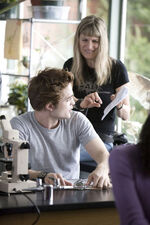 Actor Peter Facinelli, who plays Carlisle Cullen in the movie, praised Hardwicke for her bluntness and her energy, saying that she was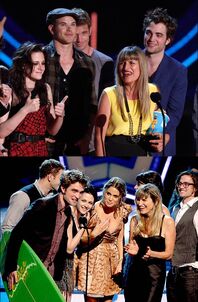 never afraid to tell him when something he'd done "wasn't working". He also said, "But the passion she brings? It's contagious. She's like an Energizer bunny all day long. I never saw her sit down. I don't think I've ever seen her eat. She just keeps on going and she wants everyone to be as passionate as she is. It's great."[2]
New Moon
[
]
It was announced in a press release on December 7th, 2008 that Summit Entertainment would not be employing Catherine as the director of Twilight's sequel, New Moon.[3] They stated that Catherine would not have enough time to bring her vision to the theater, as Summit is pursuing a more aggressive schedule to get the movie to the fans.
References
[
]
External links
[
]