Christian Serratos (born Christian Marie Bernardi, on September 21, 1990) appears in Twilight, New Moon, Eclipse, and Breaking Dawn - Part 1 as Angela Weber. She is seen in PETA's "Save the Seals" commercials.
Early life
Serratos was born in Pasadena, California and raised in Los Angeles, California. She is of Mexican, Italian and Irish descent. Serratos started figure skating when she was three years old and continued to skate competitively for 10 years. She says, "My coaches were talking about the Olympics and it was really crazy. Now, I just do it for fun."
Twilight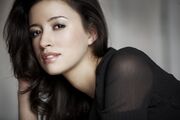 Serratos had read the novels and was excited to audition for the movie. She originally read for the part of Jessica. After a few auditions she was asked to read for the part of Angela Weber. She says "reading the books, I fell totally in love with Angela. So when they said I was going to have the opportunity to audition for Angela, I really took advantage."[1] She took her glasses off to audition for Jessica, but put them back on to become Angela. Her two favorite scenes to shoot were the car crash, which was the first scene shot with all of the "humans", and the beach scene.[1]
Personal life
Serratos has also posed nude for PETA, including a shoot for the group's anti-fur campaign in November 2009.
Filmography
Awards
| Year | Award | Category | Result | Role |
| --- | --- | --- | --- | --- |
| 2009 | Young Artist Awards | Best Performance in a Feature Film - Supporting Young Actress | Won | Angela Weber in Twilight |
Trivia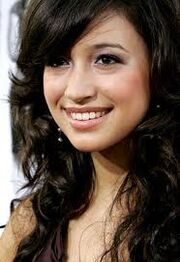 Serratos's favorite book from the Twilight Saga is Breaking Dawn.
References
External links