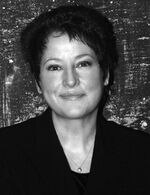 Deborah Aquila served as the casting director for the Twilight movie. Her other works include the American television series Life on Mars, Stephen King's: The Mist, Evan Almighty, and Live Free or Die Hard.
Deborah Aquila began her casting career as an associate to Bonnie Timmermann in New York after graduating from NYU's Tisch School of Arts. They worked together on Miami Vice and several feature films, including Manhunter and The Pope of Greenwich Village.
Her independent casting career began with Steven Soderbergh's Sex, Lies and Videotape and Uli Edel's The Last Exit to Brooklyn. Before she moved to Los Angeles in 1993 to cast Frank Darabont's The Shawshank Redemption, Ms. completed over 40 independent films in New York, including Alison Maclean's Crush, Steven Soderbergh's King of the Hill, Michael Tolkin's The New Age, Joseph B. Vasquez's Hangin' With the Homeboys, Stephen Gyllenhaal's Waterland, and Anthony Drazan's Zebrahead.
In 1993, Ms. Aquila became Senior Vice-President of Features Casting for Paramount Pictures. With the support of an eight-person department she developed, she supervised more than 30 films in production, in addition to "on-line" casting over 19 films during her seven years at the studio, including Primal Fear, Mission: Impossible II, Double Jeopardy, Virtuosity, 200 Cigarettes, The Brady Bunch Movie, Kiss the Girls, and Mother.
She returned to independent casting with Sam Raimi's The Gift, starring Cate Blanchett, Keanu Reeves, and Katie Holmes, and What Women Want, directed by Nancy Meyers and starring Mel Gibson and Helen Hunt.
Her most recent films include Frank Darabont's The Majestic, starring Jim Carrey; Mark Romanek's One Hour Photo, starring Robin Williams and Connie Nielson; Gregory Hoblit's Hart's War, starring Bruce Willis and Colin Farrell; Lisa Cholodenko's Laurel Canyon, starring Frances McDormand, Christian Bale, and Kate Beckinsale; Jon Amiel's The Core, starring Aaron Eckhart, Hilary Swank, and Stanley Tucci; Len Wiseman's Underworld, starring Kate Beckinsale and Scott Speedman; Robert Benton's The Human Stain, starring Anthony Hopkins, Nicole Kidman, Gary Sinise, and Ed Harris; and Gary Fleder's Runaway Jury, starring John Cusack, Gene Hackman, Dustin Hoffman, and Rachel Weisz.
Ms. Aquila has been nominated five times for Artios Awards by the Casting Society of America for her work on Sex, Lies and Videotape, The Shawshank Redemption, The Brady Bunch Movie, Primal Fear, and What Women Want.
External links
Edit
Community content is available under
CC-BY-SA
unless otherwise noted.