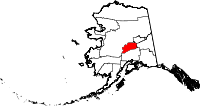 Denali, also known as Mount McKinley, is the highest North American mountain, located in Alaska. It is known for being the home of the vegetarian Denali coven, consisting of Tanya, Irina, Carmen, Kate, Eleazar, and later Garrett. The city is located close to the Denali National Park, which has a large supply of game that the Denali coven can feed on.
History
[
]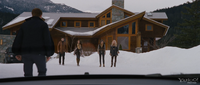 The Cullens lived in Denali for a short while, then moved to Forks, Washington, as the presence of so many vampires was becoming too noticeable. Edward escaped to Denali at the beginning of Twilight to escape Bella's tantalizing scent.
In Breaking Dawn - Part 2, Edward and his family visit the Denali coven in hopes of receiving their assistance.
External links
[
]