James Metcalfe "Jamie" Campbell Bower (born November 22, 1988) appears in New Moon and Breaking Dawn - Part 2 as Caius. He also starred in Stranger Things as Peter Ballard, Sweeney Todd as Anthony Hope, The Mortal Instruments: City of Bones as Jace Wayland, and Harry Potter and the Deathly Hallows Part 1 and 2 as well as Fantastic Beasts: The Crimes of Grindelwald as Gellert Grindewald.
Background
[
]
Personal life
[
]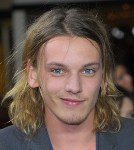 Campbell Bower was born and raised in London. His mother, Annie, is a music manager, and his father, David, works for the Gibson Guitar Corporation. In addition to acting, he is also the lead singer in the band The Darling Buds. Campbell Bower was a full-time model with Select Model Management in London.
He was formerly engaged to his Harry Potter co-star, Bonnie Wright.From July 2012 to August 2013, Bower was in a relationship with The Mortal Instruments: City of Bones co-star, Lily Collins. On 27 May 2015 Collins confirmed through her social media that she and Bower had reconciled, but later split again. He dated British model Mathilda Lowther.
Career
[
]
Campbell Bower attended Bedales and is a former member of the National Youth Music Theater. He began his professional career when friend Laura Michelle Kelly, who also appears in Sweeney Todd, recommended him to her agent. He played Rocker in the film Rocknrolla and Jack in Winter In Wartime (Oorlogswinter).
Campbell Bower stars in the 2009 remake of the series The Prisoner as Number 11-12. In 2009, he played Volturi member Caius in the film New Moon alongside Michael Sheen, who played the Volturi leader Aro. He also appears as the younger version of Gellert Grindewald, the dark wizard defeated by Albus Dumbledore, in the 2010 and 2011 adaptations of Harry Potter And The Deathly Hallows.
His most notable leading role to date is in the STARZ movie channel original series where he plays Arthur in Camelot.
("A handsome, carefree young man, Arthur is torn from his home and family upon learning he is the only male heir to the throne as a result of the king's untimely death. Arthur's intense education in a dark, unruly world inspires him to pursue a kingdom based on justice, hope, and freedom from tyranny while the lands he oversees are corrupted by violence, greed, and despair"; description of King Arthur in Camelot)
Filmography
[
]
Television
[
]
| Year | Title | Role | Notes |
| --- | --- | --- | --- |
| 2009 | The Prisoner | 11–12 | Mini-series; 6 episodes |
| 2011 | Camelot | King Arthur | 10 episodes |
| 2015–present | Thomas & Friends | Skiff | Voice |
| 2022-present | Stranger Things | 001, Vecna | 7 episodes |
External links
[
]