Kellan Christopher Lutz (born on March 15, 1985 in Dickinson, North Dakota) appears in all five movies of the series as Emmett Cullen. Lutz had a recurring role in the CW's series 90210, where he played George Evans, a lacrosse player who was constantly in detention and had a drug habit.
Kellan recently released the movie Hercules as the titular character and The Expendables 3.
Biography
[
]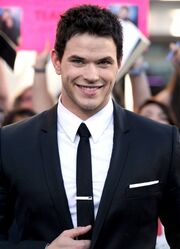 Career
[
]
Lutz got his big break after landing the role of Emmett, the super strong brother of the Cullen family, in the movie Twilight. He also posed as a model for Calvin Klein's underwear.
In 2011 Lutz landed the role of Poseidon, God of the Sea, in Immortals. He is now filming an upcoming animated action/adventure film Guardians of Luna, slated for a release sometime in 2012.
Personal life
[
]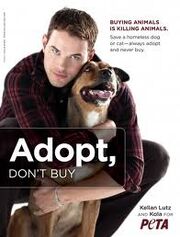 As a child his family moved around and he grew up in North Dakota, the Midwest and Arizona. Upon high school graduation, Lutz relocated to California to attend Chapman University and study Chemical Engineering, but left in order to pursue a career in acting. He was born out of a large family, comprising six brothers and a sister.
Lutz has a great passion for sports - weight training, track, baseball, basketball, skateboarding, lacrosse, swimming, tennis, racquetball, badminton, snow skiing, skydiving, para-sailing, motorcross, whitewater rafting, and snowboarding. Lutz' official site lists his talents as being fluent in Spanish, some Latin, and good at dialects. He has stated he would have gone on to be a Navy SEAL if acting opportunities hadn't come along. He also has a dog called Kola. He is very close friends with Ashley Greene, Nikki Reed, Jackson Rathbone, Taylor Lautner and Robert Pattinson, his Twilight co-stars. He has known Greene since before filming Twilight. Lutz currently lives in Los Angeles.
Lutz starred in a PETA ad with his rescued mutt Kola to tell fans, "Adopt, Don't Buy."
Lutz dated his off and on again girlfriend Australian actress Sharni Vinson between 2011 and 2013.
He was engaged to Brittany Gonzales on Octomber 2017 . They married in November 23 , 2017 . On 28 November 2019 , Lutz announced on his Instagram that he and Gonzales were expecting a baby girl in 2020 . On February 6 , 2020 Gonzales announced the loss of their 6 months baby into the pregnancy . On 22 February 2021, the couple welcomed a daughter , Ashtyn Lilly Lutz , which they confirmed via Instagram on February 26 that year . The couple announced that they expect another child in early February 2022
Filmography
[
]
Year
Film
Role
Notes
2004
The Bold and the Beautiful
Rob
TV guest role
Model Citizens
Himself
TV guest role
2005
CSI: NY
Alex Hopper
TV guest role
Six Feet Under
Critter
TV guest role
Summerland
Fordie
TV guest role
The Comeback
Chris MacNess
TV
2006
Hilary Duff's "With Love"
love interest
music video
Stick It
Frank
Accepted
Dwayne
2007
Diet Mountain Dew "Ferret"
male lead
commercial
Ghosts of Goldfield
Chad
CSI: Crime Scene Investigation
Chris Mullins
TV guest role
Heroes
Andy
TV guest role
2008
Deep Winter
Mark Rider
Prom Night
Rick Leland
Generation Kill
Jason Lilley
miniseries
90210
George Evans
TV
Tyler Shields' "Chainsaw Suit"
male lead
commercial
Twilight
Emmett Cullen
Without You
male lead
music video
2009
A Warrior's Heart
Conor Sullivan
New Moon
Emmett Cullen
2010
A Nightmare on Elm Street
Dean Finnegan
Eclipse
Emmett Cullen
2011
Immortals
Poseidon
Breaking Dawn - Part 1
Emmett Cullen
Love, Wedding, Marriage
Charlie
male lead
Arena
Daniel Lord
2012
Breaking Dawn - Part 2
Emmett Cullen
Guardians of Luna
Carson Stone
2013
Tarzan
Tarzan
voice; post-production
Syrup
Sneaky Pete
Java Heat
Jake Travers
Male lead
2014
The Legend of Hercules
Hercules
Male lead
The Expendables 3
Smilee
Love Is All You Need
Ryan Morris
Post-production
2019-Present
FBI: Most Wanted
Kenny Crosby
Trivia
[
]
Lutz's favorite book from the Twilight Saga is Eclipse.
He is on Team Edward, saying, "I love the story between Edward and Bella, so I'd be Team Edward."
Lutz was originally asked to read the role of Edward in Twilight, but was busy filming Generation Kill in Africa.
About the Twilight cast, he says, "This cast rocks! We get along so well together it's like a real family which is great to see."
External links
[
]