Kiowa Joseph Gordon (born March 25, 1990 in Berlin, Germany) appears in New Moon, Eclipse and Breaking Dawn - Part 1 as Embry Call, replacing Krys Hyatt who appears in a short cameo in Twilight film.
Biography
[
]
Life
[
]
Gordon was born in Berlin, but grew up in Arizona and attended Cactus Shadows High School in Cave Creek, Arizona. He is part of the Hualapai Nation, which is located in Northern Arizona, and, like Stephenie Meyer, he is a member of the Church of Jesus Christ of Latter Day Saints. He is the seventh of eight children (Mac, Sean, Aaron, Josh, Cheyenne, Sariah, Lakota), and his mother, Camille Nighthorse Gordon, is also an actress. In addition to acting, Kiowa is also a vocalist, and used to be a member of a progressive metal band called Touché, leaving it to focus on acting and his fans.
Career
[
]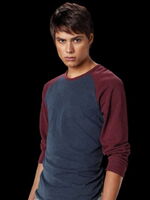 In 2009, Gordon played shape-shifter Embry Call in New Moon, based on Stephenie Meyer's novel of the same name. Gordon stated that Meyer approached him at church as she thought he would be perfect for the wolf pack. He then attended an open casting call where he landed the role of Jacob Black's best friend. He has now finished Eclipse, reprising his role as Embry. Kiowa replaced Krys Hyatt, who played Embry in Twilight. He has declared that he will reprise his role of Embry in Breaking Dawn - Part 1. Gordon will also play Brad in "Into The Darkness".
Filmography
[
]
Year
Film
Role
Notes
2009
The Twilight Saga: New Moon
Embry Call
2010
The Twilight Saga: Eclipse
Embry Call
2011
Into the Darkness
Brad
Murder for Dummys
Andrew
Breaking Dawn - Part 1
Embry Call
2012
The Lesser Blessed
Johnny Beck
2013
Killing Games
Sean
Zach Stone Is Gonna Be Famous
Television; 1 episode
2014
Heat Wave
Michael
Drunktown's Finest
Julius
2014-2015
The Red Road
Junior
Television: 12 episodes
2015
Wind Walkers
Jake Kingston
An Act of War
Private LockLear
Heat Wave
Michael
Short
2016
Homecoming
William
Post-production
Medicine Men
Sam Sault
Post-production
Calico Skies
Bamboo
Post-production
Bomb City
Twitch
Pre-production
Monsoon
Kiowa
Post-production
Other
[
]
On August 8, 2011 he was arrested for a DUI in Mesa, Arizona after police discovered he had an outstanding warrant for his arrest. He was taken to jail being held for a $1,000 bond. The warrant was from failing to appear in court February 9, 2010.
External links
[
]