The Storytellers—the New Voices of the Twilight Saga: Masque is a short film of The Storytellers, based on Stephenie Meyer's background story of the Twilight Saga. The collection of short films was released on July 14, 2015.
This is the 7th segment, and won 4th place in the competition.
Plot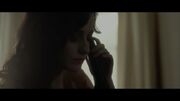 Adjusting vampire Esme Cullen is playing the cello. Her mind wanders back to the time she jumped off a cliff, heartbroken and devastated by the loss of her child. A sudden sound of someone cutting their finger snaps her back to the present and attempt to rush outside, where a young couple, Claire and Teddy, is having a picnic. Her husband, Carlisle, manages to stop her and help her regain control. She expresses how the craving for human blood sickens her and how she misses the smell of food used to make her feel, but Carlisle reminds her of what she has now and tells her to be patient with herself. They have been invited to a masquerade party at the Brant family as donation to the local hospital. Esme is insecure about her self-control and decides to sit out, but a gift and encouragement from Carlisle changes her mind.
She attends the party and manages to remain in complete control. In the middle of the celebration, Mr. Brant, the host of the party, calls for everyone's attention, then unmasks a young man, Teddy, who is dancing with his daughter, Claire, and openly humiliates him. Teddy angrily leaves, prompting Claire to follow. While out in the garden, Claire points out how ashamed she is of having such an arrogant father, prompting him to slap her aggressively until she passes out. Esme witnesses this, flashes back to her own mistreatment by her first husband, and attacks Mr. Brant. She is about to kill him when Carlisle stops her. He tells her that he is not Charles and that while Mr. Brant is undeserving of a child, she does, and she is too good to kill. Then they carry an unconscious Claire back into the house.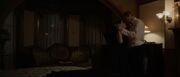 Back home, Carlisle asks Esme to a romantic dance, and she thanks him for all his support.
Cast
External links
Community content is available under
CC-BY-SA
unless otherwise noted.