Michael Alan Welch (born July 25, 1987) appears in Twilight, New Moon, Eclipse, and Breaking Dawn - Part 1 as Mike Newton. He has also starred as Luke Girardi on the TV series Joan of Arcadia.
Life and career
[
]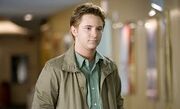 Welch was born in Los Angeles, California, and began his acting career at the age of 10. Welch is close friends with his Joan of Arcadia co-star Aaron Himelstein, who played the recurring character Friedman on the series. He and Himelstein had known each other for several years but did not become good friends until the series began in 2003.
Welch appeared in the 1998 film Star Trek: Insurrection, as well as on the television series Malcolm in the Middle, The X-Files, 7th Heaven, Cold Case, Without a Trace, NCIS, Crossing Jordan, The Riches, and Birds of Prey. He also narrated the Carl Hiaasen book, Flush, for CD in 2006. One of his most acclaimed roles is as a teenage version of Colonel Jack O'Neill (Young Jack O'Neill) in the Stargate SG-1 episode "Fragile Balance". In 2008, Welch played Mike Newton in the film Twilight, based on the book by Stephenie Meyer. He reprised the role in the film's 2009 sequel, New Moon, and returned in Eclipse. He also stars in the indie thriller Unrequited under the direction from Jason Epperson.
Welch is featured in the online viral campaign "Aczone: The Musical", which was created to inform teenagers about a new acne treatment.
Personal life
[
]
Welch married Marissa Lefton in 2008. The couple separated in 2011, and jointly filed for divorce in California on February 14, 2013. He married model girlfriend Samantha Maggio on Nov 5th, 2016.
Filmography
[
]
Year
Film
Role
Notes
1998
Frasier
Young Niles
TV, 1 episode
Veronica's Closet
Aaron
TV, 1 episode
Chicago Hope
Lama Topa Rinpoche
TV, 1 episode
Star Trek: Insurrection
Artim
Young Artist Award
1998–1999
Two Guys, a Girl and a Pizza Place
Michael Rush
TV, 3 episodes
1999
7th Heaven
Donovan Birbeck
TV, 1 episode
Walker, Texas Ranger
Adam Crossland
TV, 1 episode
Villains' Revenge
Peter Pan
voice
The Norm Show
Jimmy
TV, 1 episode
Jesse
Gabe
TV, 3 episodes
2000
American Adventure
Kevin
TV movie
Ladies Man
Kyle
TV, 1 episode
Shasta McNasty
Jeff
TV, 1 episode
Straight Right
Joey Geddes
The Pretender
Eric Gantry
TV, 1 episode
Personally Yours
Sam Stanton
TV movie
The Drew Carey Show
Scout #1
TV, 1 episode
2001
Delivering Milo
Mr. Owen
Malcolm in the Middle
Josh
TV, 1 episode
The X Files
Trevor
TV, 1 episode
The Ballad of Lucy Whipple
Butte Whipple
TV movie
The Invisible Man
Adam Reese
TV, 1 episode
Touched by an Angel
Robbie McGregor
TV, 1 episode
The District]'
Christian Gilroy
TV, 1 episode
Mickey's Magical Christmas: Snowed in at the House of Mouse
Pinocchio
voice
Judging Amy
Mike Amble
TV, 1 episode
2001–2002
House of Mouse
Pinocchio
TV, voice
2002
Rocket Power: Race Across New Zealand
TV, voice
The Angel Doll
Little Jerry Barlow
Birds of Prey
14 Year Old 'Guy'
TV, 1 episode
CSI: Crime Scene Investigation
Todd Branson
TV, 1 episode
2003
The United States of Leland
Ryan Pollard
Stargate SG-1
Young Jack O'Neill
TV, 1 episode
2003–2004
Fillmore!
Cockney Kid
TV, 2 episodes
2003–2005
Joan of Arcadia
Luke Girardi
TV; Young Artist Award
2005
Without a Trace
Lance
TV, 1 episode
Strong Medicine
Win
TV, 1 episode
Cold Case
Daniel Potter - 1972
TV, 1 episode
2006
NCIS: Naval Criminal Investigative Service
Kody Meyers
TV, 1 episode
Crossing Jordan
Josh Winter
TV, 1 episode
All the Boys Love Mandy Lane
Emmet
2007
An American Crime
Teddy Lewis
Law & Order: Special Victims Unit
Scott Heston
TV, 1 episode
Choose Connor
Max
The Beautiful Ordinary
Stephen
aka Remember the Daze
Numb3rs
Kyle Clippard
TV, 1 episode
CSI: Miami
Shane Partney
TV, 1 episode
2008
American Son
Goldie
Day of the Dead
Trevor Bowman
The Riches
Ike
TV, 4 episodes
My Suicide
Earl
The Thacker Case
Kevin Thacker
The Twilight Saga: Twilight
Mike Newton
2009
The Grind
Josh
CSI: Crime Scene Investigation
Steuben Lorenz
TV, 1 episode
Lost Dream
Perry
Rough Hustle
Jimmy
The Twilight Saga:New Moon
Mike Newton
2010
Unrequited
Ben Jacobs
The Twilight Saga: Eclipse
Mike Newton
2011
The Twilight Saga: Breaking Dawn - Part 1
Mike Newton
Bones
Norman Hayes
TV, 1 episode
2013
Grace Unplugged
Quentin
Hansel & Gretel Get Baked
Hansel
Grimm
Jake Barnes
TV; 1 Episode
2014
Boy Meets Girl
Robby
Boys of Abu Ghraib
Pits
2014–15
Z Nation
Mack Thompson
Main role
2015
Scandal
Officer Newton
TV; 1 Episode
2015
NCIS: New Orleans
Kevin Heller
TV; 1 Episode
2016
Lucifer
Kyle Erikson
TV; 1 Episode
2016
The Catch
Teddy Seavers
TV; 1 Episode
2016
Another Period
Franklin D. Roosevelt
TV; 1 Episode
External links
[
]