New Moon: The Graphic Novel is a graphic novel based on the second book of the Twilight series, published by Yen Press.
Volume 1 was released on April 30, 2013. It is currently unknown how many more volumes will be published.
Plot
[
]
Volume 1
[
]
This graphic novel takes place on Bella Swan's 18th birthday, months after James's death.
During her birthday party orchestrated by Alice Cullen, Bella gets a paper cut and Jasper Hale goes frantic, causing a dangerous scene where Bella's injuries worsen. Edward Cullen decides to leave Forks with his family to keep her safe, but Bella falls into a long severe depression because of his departure.
Months later, Bella reluctantly goes for a night out with Jessica Stanley, and stumbles across a group of seemingly dangerous teens, which reminds her of the time she almost got attacked by a different gang. She discovers that by putting her life in danger, she could hear Edward's voice in her head and goes on adrenaline-filled expeditions. On one of these attempts, she visits Jacob Black and asks him to help fix a pair of broken motorcycles. He agrees and the two begin to spend lots of time together. Jacob becomes the touchstone that temporarily relieves her of her heartache, and he promises to be there for her always. That is until he unexpectedly gets sick and stops contacting her.
She relocates the meadow and finds herself in a life-threatening confrontation with Laurent, who decides to kill her before Victoria does. Suddenly, a group of bear-sized wolves come into the clearing and chase the vampire away.
Volume 2
[
]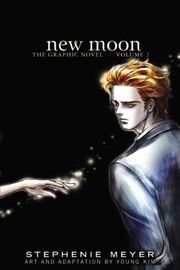 In the first installment of New Moon, Bella and Edward find themselves facing new obstacles, including a devastating separation, the mysterious appearance of dangerous wolves roaming the forest in Forks, a terrifying threat of revenge from a female vampire and a deliciously sinister encounter with Italy's reigning royal family of vampires: the Volturi.
This volume's release had been delayed infinitely.
External links
[
]