Rami Malek appears in Breaking Dawn - Part 2 as Benjamin.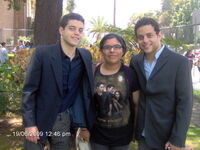 Rami Said Malek is an American actor of Egyptian descent. He was born on May 12, 1981, in Los Angeles, with an identical twin brother named Sami Malek, who is four minutes younger than him.
He is best known for playing the gay teenager Kenny on the television series The War at Home, Merriell "Snafu" Shelton on The Pacific, as well as Pharaoh Ahkmenrah from the films Night at the Museum and Night at the Museum: Battle of the Smithsonian, and as Elliott Alderson in Mr Robot.
He recently portrayed Freddie Mercury in the film Bohemian Rhapsody. His performance was applauded by both critics and audiences, earning him the Golden Globe, Screen Actors Guild, BAFTA and Academy Awards for Best Actor.
Year
Film
Role
2006
Night at the Museum
Ahkmenrah
2009
Night at the Museum: Battle of the Smithsonian
Ahkmenrah
2011
Larry Crowe
Steve Dibiasi
2012
The Twilight Saga: Breaking Dawn: Part 2
Benjamin
The Master
Clark
Battleship
Lt. Hill
2013
Ain't Them Bodies Saints
Will
Short Term 12
Nate
2014
Need for Speed
Finn
Night at the Museum: The Secret Of The Tomb
Ahkmenrah
2018
Bohemian Rhapsody
Freddie Mercury
2020
Dolittle
Chee-Chee
Year
Film
Role
2004
Gilmore Girls
Andy
2005
Over There
Hassan
Medium
Timothy Kercher
2005-2007
The War at Home
Kenny
2010
24
Marcos Al-Zacar
The Pacific
Merriell "Snafu" Shelton
2012
The Legend of Korra
Tahno
Alcatraz
Webb Porter
2015
Mr. Robot
Elliot Alderson
Community content is available under
CC-BY-SA
unless otherwise noted.