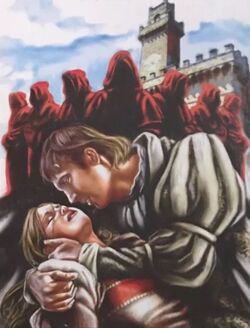 Romeo and Juliet is a tragedy written by William Shakespeare early on in his career about two young star-crossed lovers, whose deaths ultimately reconciled their feuding families. Motifs from the play are seen quite dominantly in both the books and films of the Twilight Saga, specifically in New Moon, in the way Edward Cullen wrongly believed Bella Swan to be dead, and proceeded to try and end his own life by provoking the Volturi.
Summit Entertainment had custom made copies of Romeo and Juliet to appear in The Twilight Saga: New Moon, the cover featuring Romeo crying while clutching Juliet's dead body, with figures in red robes watching in the background. The figures in red are a reference to the Volturi.
Community content is available under
CC-BY-SA
unless otherwise noted.