The Storytellers—the New Voices of the Twilight Saga: The Mary Brandon File is a short film of The Storytellers, based on Stephenie Meyer's background story of the Twilight Saga. The collection of short films was released on July 14, 2015. This segment was announced as the winning production on August 7th, 2015.[1]
This is the 4th segment to be released.
In March, 1920, Mary Alice Brandon is admitted to a mental asylum under the impression of having gone mad for being able to see the future. Her doctor, Dr. Brown, is assigned to give her electrical treatment to wipe her memory. To keep her memory intact, Alice writes down her life on a piece of paper, including her young sister, Cynthia and the death of her mother, Lillian Brandon.
Flashbacks show Alice's life before landing in the asylum. She had had visions of the future since childhood, and while her mother believed in her gift, her father was skeptical. At eighteen, her mother was murdered, but her death was reported as accidental. Her father, Edgar, dismisses her story when she tries to tell him. When he remarries a woman named Anna-Marie, Alice suspects her of orchestrating her mother's murder and consoles her father about it. She then immediately sees him sending the same man who killed Lillian after her, and realizes it was her father who wanted her mother dead and now will come after her as well. Running off in horror, Edgar realizes that she knows. That night, she goes to the town marshal to turn Edgar in, but Edgar and Anna-Marie beat her to it and accuse her of madness to lock her up.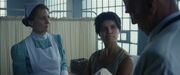 At the end of the segment, Alice drops her paper while the last of her memories disappear. When she comes to, she has no recollection of her old life and greets the doctor and nurse with a cheerful smile. The nurse tells her her name before walking away with the paper in hand. "Alice" expresses how much she likes the name.
References
Edit
External links
Edit
Community content is available under
CC-BY-SA
unless otherwise noted.