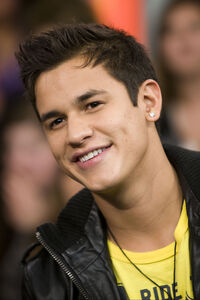 Bronson Pelletier
, who plays wolf-pack member
Jared
, was jumped at a Twilight fan convention in Birmingham, England, last week! He was busy signing autographs and taking photos with fans when he took a break to hit the head. While minding his own business in the convention center's restroom a group of guys jumped him. They just felt like beating up "somebody who was in Twilight?!"
"Apparently, three drunk, late-20s males who were at a wedding at the same venue thought it would be funny to put my client in a neck lock and threaten him," a rep for Bronson confirms to E!.
"To their surprise, Bronson, who has a 'street' background, elbowed and fought his way loose in true 'Wolf Pack Spirit,'" continues Pelletier's rep. "When he came back with some other 'wolves' to even the odds, these drunk assholes were long gone."
Don't worry Twihards, he is "fine" and was not in the hospital.