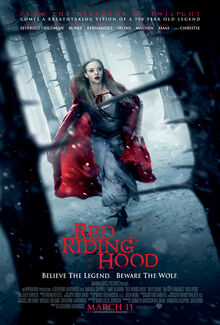 Guess who showed up at last night's Red Riding Hood premiere?!
Twilight
starlet,
Nikki Reed
, also known to twihards as
Rosalie Hale
! She came to show support for Red Riding Hood and
Twilight
director,
Catherine Hardwicke
. The two have been close friends since Hardwicke cast Reed in her directorial debut, Thirteen.
Also in attendance were the stars of Hardwicke's new flick, Amanda Seyfried and Shiloh Fernandez. Did you know that Shiloh was in consideration to play Edward Cullen? Can you image anyone but Robert Pattinson in the role?
When asked about a Twilight/Red Riding Hood connection, Hardwicke replied,"it kind of starts in that (Twilight) world, two people madly crazy in love . . . But then a murder happens right away and it completely turns around. The cool thing about Twilight was that we had to be in this world, present day. You had to believe that vampires could really show up at your high school and be wearing jeans, but in (Red Riding Hood) we got to make our own fairy tale world."
So twihards, are you excited to see Catherine Hardwicke's new supernatural flick? If you are be sure to enter our Red Riding Hood giveaway and win cool gear from the film!
Enter to Win Now!