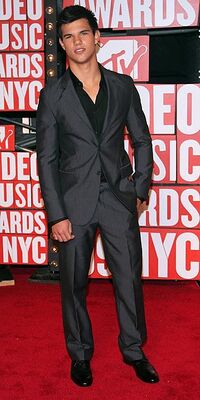 Are you ready to see
Taylor Lautner
as an A list celebrity? He is! After working on his upcoming film, "Abduction," with director John Singleton (Boyz N the Hood) he is ready to take on a whole new kind of career.
Lautner had always admired Tom Cruise, and Singleton coached him on how to follow in the A-lister's path (professionally). "I told him to watch the transition from 'Top Gun' to 'Rain Man' to 'Born on the Fourth of July.' "To think about what he did as a young man and what he did later on. And then think about what you (Lautner) want to do."
In an industry of one hit wonders, can Taylor Lautner make the transition to "serious actor?"
" 'Twilight' is a great stepping stone for his career. It's like, 'Wow, he's an icon already,' " Singleton said. "But now that you have this stature, it's a question of what you do with it. And that's what he's been working hard on."
For "Abduction," Singleton had Lautner watch "Minority Report" (as well as "The Fugitive") to show the actor the ways one can bring nuance to a traditional man-on-the-run part. Even though "Abduction" is a commercial thriller (premise: a teenager goes on the lam when he finds out the people he thought were his parents are something else entirely), that doesn't mean that Lautner didn't or couldn't flash chops, Singleton said.
"I think when people see this film they'll see a more mature Taylor," Singleton said of the movie he recently finished shooting that's set for release next fall. "He's doing this [thing] he's never done before. He's funny and charismatic. He has room to breathe that he's never had before."