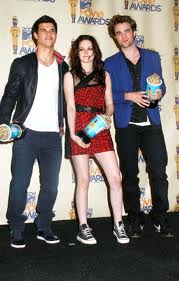 Looks like Vampires and Werewolves may be playing nice for a change!
MTV today announced that at Sunday's MTV Movie Awards, Kristen Stewart, Robert Pattinson and Taylor Lautner are confirmed to present viewers with the very first look at footage from Breaking Dawn. But courtesy of MTV and Summit Entertainment, we're going to offer you an even earlier look!
The Bill Condon directed film flies into theaters on November 18 and of course is based on the first half of Stephanie Meyer's book Breaking Dawn. The awards this year will be hosted by Jason Sudeikis, and will broadcast LIVE from on Sunday, June 5 at 9p.m./8p.m.C.
The Twilight Saga stars will join a cadre of previously announced presenters including Chelsea Handler, Mila Kuni, Jason Bateman, Charlie Day, Ryan Reynolds, Blake Lively, Steve Carell, Emma Stone, Shia LaBeouf, Rosie Huntington-Whiteley, Josh Duhamel, Patrick Dempsey, Cameron Diaz, Jason Segel, Jesse Eisenberg, Aziz Ansari, Danny McBride, Nicki Minaj, Selena Gomez, Leighton Meester and Katie Cassidy
If you recall, Twilight Saga franchise has had some success in past years. Twilight and New Moon each received five popcorn statues at the 2009 and 2010 "MTV Movie Awards. Apparently fans voted rabidly this year to ensure The Twilight Saga: Eclipse was included in the 2011 list of final nominated films and the passion paid off- the movie us up for seven nominations in four categories as previously reported.
If you want a sneak peak at the trailer, just click HERE!
And be sure to tell us what you think!