Hey!
First of all, happy June! Summer time!
I guess most of you (including me :P), during your summer holidays, will be online almost all day because of boredom. So, why don't you start working out?
You can start with some aerobic exercises. For example, cycling, walking, jogging or running. Now that it's summer, swimming is great too! You can do all these with friends or alone or while listening to your favourite music. 4-5 times a week is fine. :)
If you want to get fit while working out, I think it's a great idea. :)
Now, if you want to work out in order to gain some muscle or to lose weight, that's another thing.
Happy summer to all of you! :)
Nike's Girl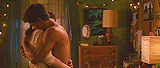 14:45, June 3, 2012 (UTC)