Kristen and Robert are not marrying
Read this and you will be very surprised, Robert Pattinson and Kristen Stewart are not getting married they are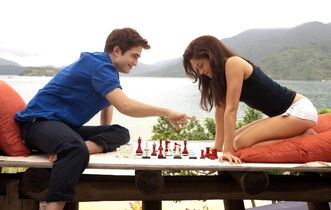 not even engaged!! That is a Rumor that some sick FAMOUS Magazine Australia had wrote about the to of them, it was proven FAKE and I have been researching for some quite some time ever since it was announced.
Or Just keep reading:
MAG: Robert Pattinson and Kristen Stewart Had "Huge Bust-Up" at Cannes
"Life after Twilight has been rather dark for Kristen Stewart and Robert Pattinson," reports Star magazine.
Huh?
We missed the news that it's been a "rather dark" period for the two stars, what with them speaking more openly and happily about their relationship than ever before.

According to Star, Stewart and Pattinson are "having trouble staying together while spending so much time apart," which is pretty much exactly the line tabloids have been using about the busy actors for the duration of their now years-long romance.
The tabloid claims that at the recent Cannes Film Festival, "the couple had a huge bust-up" that ended with Stewart "storming out" on Pattinson.
"At Rob's Cosmopolis party, she lost her temper," alleges a so-called "insider" for the magazine, explaining, "She says he was flirting with other women, but he wasn't at all. She was in the lobby in tears."
Uh-huh.
We have a few questions for the tab.
1. Why wasn't this "huge bust-up" big enough for anyone else to notice it – especially two weeks ago when it supposedly happened?
2. Has Star checked in with its equally wrong sister publication OK!, which claims to have lots of details about an imminent Stewart-Pattinson wedding?
3. Does it make sense for anyone to take cues from a publication that falsely claimed Stewart and Pattinson were "on the verge of a split" last November, shortly after the same mag pretended to have "proof " they were engaged?
Needless to say, Star is a bit clueless when it comes to Pattinson and Stewart — and it shows (again) in this latest item.
Sources close to the couple tell Gossip Cop the rumor of a "huge bust-up" in France is totally fabricated.
This file is copyrighted. It will be used in a way that qualifies as fair use under US copyright law.
Sources: